Transporte Latino Magazine celebrates it's 17th year in the industry. Transporte Latino is the only Media outlet dedicated exclusively to the Hispanic trucking professionals. We understand the thought process, culture, needs, and priorities of Hispanics in the industry. Our monthly publication distributes 92,500 copies nation wide and is BPA Worldwide audited. It is distributed at independent truck stops. truck dealers; and service facilities throughout the most traveled trucking routes in the country.
It is also distributed at all major Truck Shows in the United States. Transporte Latino delivers product information, maintenance tips, business advice, and much more to our audience. Transporte Latino Magazine has a 90% retention rate thanks to reference material and the highest production quality in the industry as well as a readership per issue rate of 4.6.
The app and website provides an ever increasing traffic of readers with a constant flow of the latest information of interest to the Latino trucker (www.transportelatino.) banners and web links are offered free of charge to our advertisers. Surveys are also conducted through our website.
The Trucking Industry
Trucking is a 1.3 trillion dollar industry. It represents 48% of the total logistics system in the United States. Without a doubt trucking, and the men and women behind the steering wheel, haul over 80% of the total freight of goods that consumers need in America. The trucking industry is changing to absorb the future increase of freight during the next decade, expected to grow at around 10% annually. Large transportation companies are changing their practices of hiring drivers and replacing them with sub-contractor teams and independent truckers, and Latinos fit that profile. Transporte Latino Magazine's primary focus is to be the main channel of communication between the trucking establishment and the ever growing segment of Latino truckers.
Circulation
• 75,000 copies nation wide and is BPA Worldwide audited. The total readership is about 345,000 every month.
Hispanic Trucker Profile
A survey showed that more than 64% of Latino truckers are Owner Operators
83% of Hispanic truckers choose Spanish as their primary language.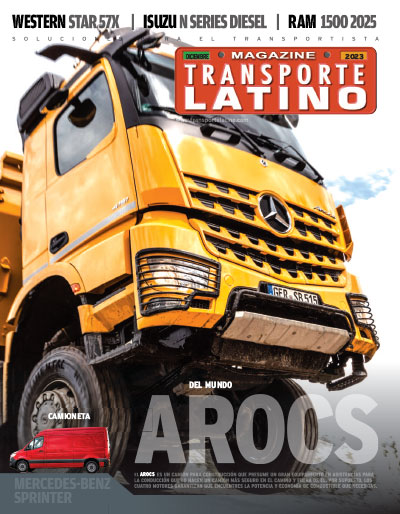 CONCENTRATION OF HISPANIC TRUCKER BY STATE
CALIFORNIA

63%

63%

TEXAS

62%

62%

ARIZONA

51%

51%

FLORIDA

41%

41%

NEW MEXICO

33%

33%

NEW YORK

32%

32%

NEW JERSEY

29%

29%

NEVADA

24%

24%

OREGON

18%

18%
AGE 21-25 OWNER COMPANY

6%

6%

AGE 21-25 OWNER COMPANY

7%

7%

AGE 25-35 OWNER COMPANY

27%

27%

OPERATOR DRIVER

29%

29%

AGE 35-45 OWNER COMPANY

38%

38%

OPERATOR DRIVER

38%

38%

AGE 45-55 OWNER COMPANY

29%

29%

OPERATOR DRIVER

26%

26%